MEOW WOOF IMPROV IS TURNING FOUR!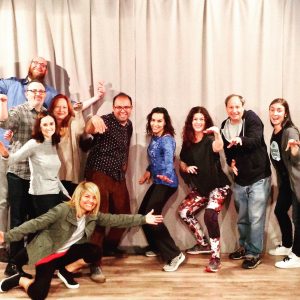 ….AND YOU'RE INVITED TO THE PARTY!
CHECK OUT THIS WRITE UP FROM A HOT LA JOURNALIST FOR A TASTE OF MEOW AND WOOF AND ALL THE DEETS!
Hollywood's Meow Woof Improv Celebrates 4 Years of Fun With Anniversary Showcase
by Gregory Cornfield
Time flies when you're having fun.
Director Jeff Perdue and the Meow Woof Improv Cast are celebrating four years of laughs on Sunday, January 26, at the Annual Hollywood Anniversary Showcase. All are invited to the special production with the most talented, versatile and unpredictable comedy crew in Los Angeles.
Fans and community members looking to laugh are needed to select the show's narrative, which the cast will present on the spot. Working off the audience, the goofy troupe never fails to create a hilarious scene as it unfolds that Angelenos don't want to miss.
In the acclaimed Perdue-style, the show combines original narratives with spur-of-the-moment suggestions from audience members, who decide what each scene is based on before the players spin it in a way never seen before.
Guests should always be ready to laugh, cheer, and celebrate with the cast and the other members of the audience.
At the recent Hollywood Fall Classic in September, the Meow Woof Cast took the audience on an adventure filled with quips and gags after the audience said they wanted to see scenes of the new 'Joker' movie, and 'Bob's Burgers.' The result left people laughing so hard that they cried.
Other shows this year featured special guest performers, such as Bennie Arthur from 'Drunk History.
Doors open at the historic Lounge Theatre at 8 p.m. It is located in the heart of Hollywood's famed "Theatre Row," at 6201 Santa Monica Boulevard, at the northwest intersection of El Centro Avenue, one block east of Vine Street.
The show includes adult subject matter and themes. The audience is always invited to meet the cast after the performance. Tickets cost $10, and come with a free beverage. Groups of four or more are half price. Refreshments, including wine and beer, as well as snacks will be available for sale. Free parking is available on the street.
Performers for the 2020 Hollywood Anniversary Showcase:
Jonathan Bradley
Josh Riley Brown
Jennifer H Caldwell
Devlyn Corrigan
Stephen Gilikin
Liath Gleeson
Peter Getty
Michael Gitomer
Cathy Kozlowski
Janet Rojas
Avi Silver
Ian Stern
Jovita Trujillo